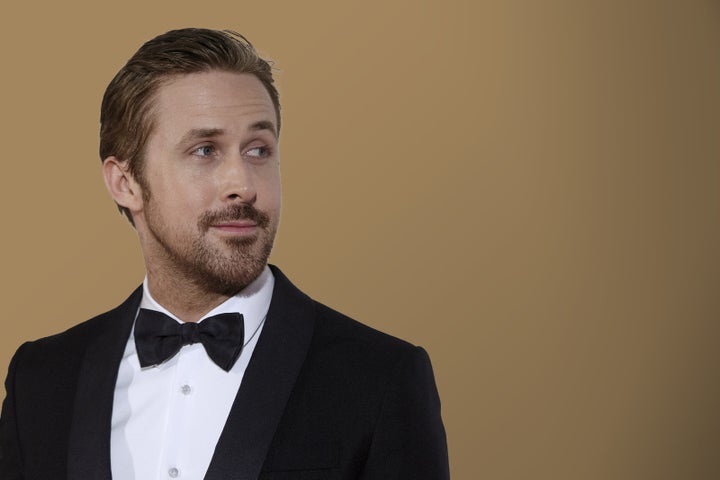 Donatella Giagnori / Camera Press / Redux
The fact of the matter is that a baby-faced young person – a waistcoated and behatted 11-year-old Michael Jackson in 1969, say – singing a love song about feelings he has no experience with is adorable. It was delightful to hear him sing Smokey Robinson's "Who's Loving You?" and more than a little absurd. But if that blend of cuteness and slightly uncomfortable absurdity ain't broke, why on earth would you try to fix it, even 25 years later?
Witness then, four youths in the early 1990s (all dressed in dramatic all-white) singing "Cry for You" by Jodeci, one of the most sexual bands of the decade, on Disney's The All-New Mickey Mouse Club. Three of the four boys are white, and those three white boys went on to become wildly famous in the '90s and beyond; the fourth boy, Dale Godboldo, is less famous but working still, most recently in The People v. O.J. Simpson: American Crime Story. Two of those white boys, JC Chasez and Justin Timberlake, went on to be in the Grammy-nominated band NSYNC.
And the last white boy in that musical lineup? Well, he went on to become a human meme, a father of two, and the star of such films as The Notebook, Drive, and Half Nelson, for which he was Oscar-nominated. That's right: The child singing "you know you're everything I do," while emoting with real feeling, went on to become Hollywood A-lister and recent Golden Globe award winner Ryan Gosling.
Look at him go!
Gosling's star rose long before the superhero bloc came to dominate cineplexes, way ahead of the Many-Faced Chris era. He is a legitimately exciting and singular performer, with a knack for selecting projects that raise eyebrows and pique interest (of both audiences and auteurs). His career has been surprisingly and pleasingly genre-fluid: a flawless move from The United States of Leland (2003) to Half Nelson (2006), via the barnstorming The Notebook (2004), showed us just how versatile he can be, while highlighting the reserves of talent he possessed. With hindsight, his ascension felt somewhat preordained; if not quite effortless, then relatively smooth, at the very least.
Perhaps this is partly down to the pace of his output: He has the steady rhythm of a marathon runner. For all of the praise he was getting at the height of his blow-up curve, Gosling is hardly prolific; aside from a rare glut in 2011 when he was in three major (and generally well-received) studio movies (Drive; Crazy, Stupid, Love; and The Ides of March), he's ]done, on average, only one full-length movie per annum in the 2010s so far.
Filmdistric / Everett Collection / Everett Collection
While moving from unglamorous child actor to the upper echelons of the Hollywood pyramid, Ryan Gosling has occupied a unique space in the minds of audiences. Despite his male bulk, he exudes a distinct feminine energy (as is almost de rigueur for male actors of a certain age, he is close to his mother and sister; he was briefly home-schooled by the former, and performed dances with the latter). The dichotomy of his physicality and his sensibility gives viewers pause, and it interesting to note that his softly spoken, almost slurred speaking voice is no accident. In a 2010 interview, he told Lynn Hirschberg he "thought guys should sound like Marlon Brando" so he copied the actor's intonation as a kid, and was now stuck with a "phony accent." That manufactured tic does the trick of immediately suggesting something altogether more interesting, and encourages a closer look at the actor.
Crucially, he's a legitimate leading man, thanks to a career- and era-defining movie (The Notebook), and it is partly the goodwill he generated from that role that powers much of our interest in him, still. From having his image replicated as a "sensitive/idea boy" meme to making a statement about the representation of women on film, to speaking up about a humanitarian crisis in West Africa, Gosling acts as the perfect canvas to project our desires onto. That earned credit also helps us to overlook and even embrace the unexpected, off-the-wall roles he has a penchant for. And when we do, he sometimes rewards us with a pure gem, like La La Land.
La La Land, 2016
Lions Gate / Courtesy Everett Collection
A golden age-inspired romantic musical, La La Land is the antidote to the fair-to-middling almost-flops/not-quite-hits in Gosling's recent resume. It is the sort of movie Hollywood gets to crank out every few years: self-referential, nostalgic, and (ostensibly) uncomplicatedly, existentially, and purely delightful (the truth is always somewhat murkier). It's another collage piece in the mishmash of arthouse, slick and stylised, and downright odd that has been Gosling's career to date. It's the seemingly unstudied and elusive strangeness to Ryan Gosling that keeps us watching – even when we don't have to. It might be because he's carved out an old-fashioned movie star's aesthetic, in which he purposefully holds out on much of his personal life, and lets his deliberately unconventional choices do the majority of the talking for him. It's not quite the "treat 'em mean" way of doing things, but there's something about withholding that increases desire. The upshot is that this isn't the usual order of business in 2016 or 2017 for that matter, and yet we don't seem to mind.
Ryan Gosling is arguably trying to be the type of star that doesn't really exist any longer.
La La Land's existence in the current cultural landscape runs sort of parallel with Ryan Gosling's career: This is a type of film that doesn't really exist any more, and Gosling is arguably trying to be the type of star that doesn't really exist any longer. His is a distinctly old-school version of movie stardom: a father of two whose children (with partner Eva Mendes) we never see; an A-list fixture who still maintains a relatively low-key profile when out of the promo cycle; mainstream enough to carry movies but offbeat enough to win critical acclaim in indie (and indie-minded) projects; bounce-backability in the face of cinematic misadventures (such as an ill-advised directorial debut). Ryan Gosling is a star out of his time.
Ryan Gosling's emergence as a sort of thinking man's actor's actor in the mid- to late aughts was one of the more interesting developments in White Hollywood™ at the time. The nominees for Best Actor at the Oscars between 2004 and 2007 was hardly full of thrusting young Turks; highlights from that list include Bill Murray (Lost in Translation), Clint Eastwood (Million Dollar Baby), Peter O'Toole (Venus), and Sean Penn (Milk). His contemporaries were the likes of Heath Ledger and Jake Gyllenhaal: all undoubtedly carrying a twinkle of promise back then, though neither had yet had a mainstream hit like 2004's The Notebook. And Gosling's first post-Disney outing did not set itself apart as exactly auspicious.
I first saw him in a cheesy spin-off Fox Kids series called Young Hercules, in which he played, yup, a version of the demigod as a trainee teen dreamboat. It's a bad TV show, and was canceled after a single (and, ironically, Herculean) 50-episode season. In it, Gosling wears his straight blonde hair in a peak '90s "curtains" cut, a budget version of The Princess Bride-era Cary Elwes.
Child actors who survive and thrive past that gilded cage stage tend to have a look about them. Sarah Michelle Gellar has it, and so do Tobey Maguire and Leonardo DiCaprio: It resembles a kind of hawkish watchfulness. Gosling, who moved from London, Ontario to Florida for the MMC gig, has that look. His time with Disney didn't last that long, though – the show was canceled after a couple of years – and Gosling returned to Canada, where he attended regular school, with regular kids. Of his time on the show, he told NPR's Dave Davies: "These kids were kind of prodigies … I certainly wasn't. But you look at someone like Christina Aguilera, who was like, 11 years old and 40 pounds, and singing like Etta James. And you see someone who is realizing their destiny. This is where they're supposed to be, what they were supposed to be."
Gosling (left) in The Believer, 2001.
Seven Arts Entertainment / Courtesy Everett Collection
And while he deduced early that wasn't his path, he was actively pursuing acting as a career, and as an older teen, landed a small and ultimately not especially memorable role in the 2000 Denzel Washington movie Remember the Titans. A year later he starred in The Believer, more or less setting the path his career would go down. It is a difficult, often unpleasant, and not entirely cohesive film, one of those you tend to watch once and never again, and Gosling is astonishing in it. He had to be for the film to work, and he is by turns heartbreaking and infuriating – as a Jewish man radicalised by, and in thrall to, Neo Nazi ideology, so caught up in his own self-hate that he has tied himself up in deadly knots. The film won the Grand Jury Prize at Sundance in 2001. Gosling had set himself apart as a hot new talent: an actor not only capable of an incendiary performance, but also one with a knack for achieving "accessible offbeat," i.e., just weird enough. On a scale of interestingly all-out creepy Crispin Glover to affable human bear Chris Pratt, Ryan Gosling strains towards the Glover end. And that weirdness is the most sustained trait of his career.
In 2004, a long-fermenting project finally produced fruit: The Notebook, an adaptation of novelist Nicholas Sparks' 1996 romantic drama, was released. Mildly put, it was a hit, returning almost four times its budget. But more than a mere box-office triumph, the film lodged itself in the hearts of romance lovers, in a way that perhaps no other film had since 1997's Titanic. As Noah, one half of the love affair at the movie's heart, Ryan Gosling delivered a solidly wrenching performance ("I wrote you 365 letters. I wrote you every day for a year."). He was charming, intense, smouldering! He employed all sorts of tools to telegraph passion in the film but really, it was window dressing: The eyes had it. At the 2005 MTV Movie Awards, Paul Walker and Zhang Ziyi presented Gosling and his co-star Rachel McAdams with their award for Best Kiss. Wearing a plain white T-shirt with "darfur" written across it, and chewing gum insouciantly, Gosling took to the stage with his co-star, and they re-created their movie lip lock. Look, it was kinda hot.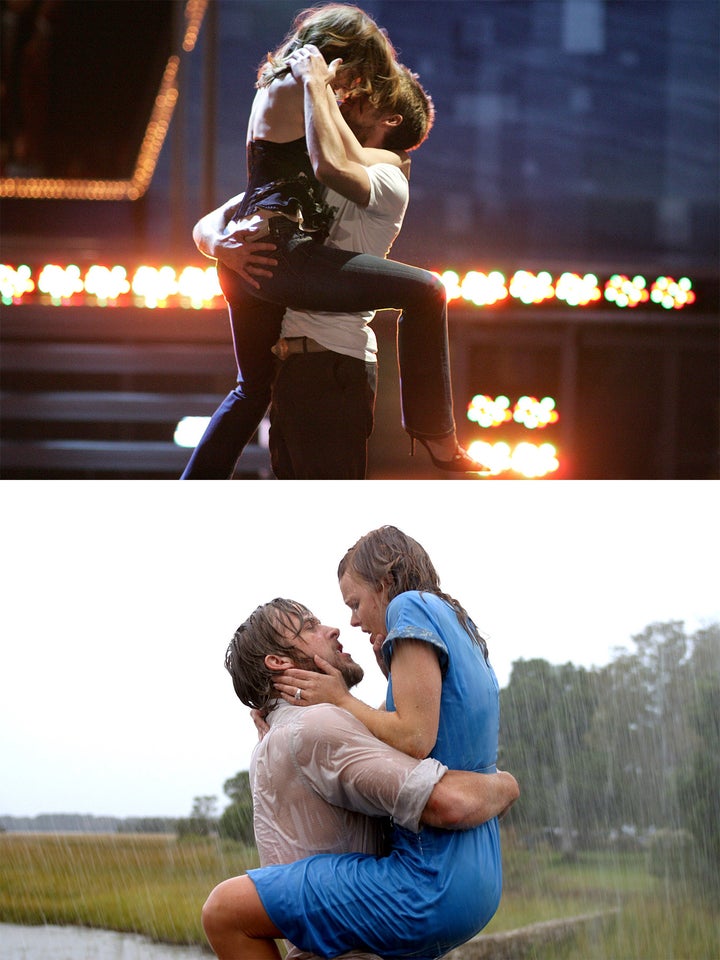 Rachel McAdams and Ryan Gosling won the award for Best Kiss at the 2005 MTV Movie Awards (top) for their steamy liplock in The Notebook (bottom).
J. Shearer / WireImage / New Line Cinema / Everett Collection
Like Keanu Reeves before him, Gosling has a preternatural feel for how the camera works, a self-awareness that means he is observing himself nearly as much as the camera is. In a piece analysing the style of Keanu Reeves, writer Angelica Jade Bastién describes Reeves' stillness as "transfixing" and you could say the same of Gosling's. The difference is that there is a warmth to the latter's, a sort of magnanimity – and a broken humanness – that shines through every time, and is specifically interested in inviting the viewer in. Maybe this is down to his face and physicality: Gosling's is not a beautiful, nor even especially handsome, face. It lacks, for example, the pillowy lips that would mark it both indubitably feminine and carnal (see: Brando, the template for his "phony accent," remember), nor does it have the lantern jaw that would make it super-masculine (Brando again!), and his colouring is not rare or exotic. But for all its plain elements – his nose is thin, and so are his lips, and his cheekbones are sufficient – he still has a striking face.
It's instructive to look at Gosling's career alongside that of his contemporary Gyllenhaal. Both actors had standout early performances in 2001: The Believer for Gosling and Donnie Darko for Gyllenhaal. In the intervening years, both men (who have similar gifts and are a month apart in age) have done willfully difficult films, but arguably only one of them seems to have consistently and deliberately ploughed the "weird" furrow: Gosling. By contrast, Gyllenhaal seems to have actively rejected the weirdo (he has since returned partially, as seen in 2014's Nightcrawler). To be clear, it's less about the projects selected, than the way the actors come across.
For Gosling, ostensibly channeling Brando once again, the talent sometimes looks a little too careless with itself, worn a tad too casually, with choices made on pure instinct rather than a career path in mind. Gyllenhaal's choices look more studied, an actor trying on many glass slippers (action hero, troubled jock, indie darling, etc.) until he found a fit. The plaudits that came for Gosling followed the script required of hot young talent. New York Times critic Manohla Dargis wrote that Gosling was "…among the most exciting actors of his generation." In 2007, at age 26, he was nominated for Best Actor for his role in Half Nelson. (Gyllenhaal had won the Best Supporting Actor gong the year before, for Brokeback Mountain).
Half Nelson, 2006
Think Film / Courtesy Everett Collection
Gosling's deal is a willingness to take real risks (I mean, it's Hollywood, not war) with roles – a Wisconsin man who starts a relationship with a realistic sex doll; a stuntman turned criminal in upstate New York; another stuntman-criminal (this time in LA); a high school teacher with a crack habit; a smooth-talking pickup artist, etc. – and to wear hats in several genres, without an obvious care as to how successful such a strategy is. In a way, The Notebook did more than make Ryan Gosling a bonafide romantic hero movie star – it also bought him what may turn out to be a lifetime of goodwill credit. And it's that goodwill that allows him a degree of weirdness – and latitude for failure – in his choices.
In 2013, he starred as a detective in Gangster Squad, an odd and violent crime thriller that is not very pleasurable to watch, and a year later his directorial debut (he wrote it as well), Lost River, received a chorus of boos at the Cannes film festival. Critic Wesley Morris drily tweeted: "If a $200 haircut and $900 shades were given lots of money to defecate on Detroit, the result would be Ryan Gosling's directing debut." He's already got a head start on the "memorable failures" item on his life agenda; it's really not difficult to look to his future and see an ill-judged The Island of Dr. Moreau-style spectacular failure prominent in it. He seems unafraid of trying new things, a breath of fresh air in a climate of tightly scheduled releases and rigidly managed careers. And we're likely to keep forgiving him the excesses to come: After his directing misadventure, he played a weaselly salesman in 2015's The Big Short (another one of those weird little characters), and in 2016, starred in Shane Black's The Nice Guys (oddball central). Gosling seems accustomed to, and unafraid of ridicule – another manifestation, or at least, a correlation, of that femininity he carries within himself.
Michelle Williams and Gosling in Blue Valentine, 2010.
Weinstein Company / Courtesy Everett Collection
Source: Buzzfeed Ryan Gosling Is A Star After His Time